If you have joint or spine pain, consider Regenexx® non-surgical procedures to help reduce pain, improve function & return to activity.
Regenexx procedures use your body's natural healing ability to help repair damage to bones, muscles, cartilage, tendons, and ligaments without surgery. Our proprietary, research-based techniques and patented protocol allow us to concentrate your cells and place them in the precise area of your injury to help promote healing and achieve optimal results.
May Help Reduce Pain and Improve Function Without Surgery.
We Are 100% Focused on Orthopedic Conditions.
Published Research and Outcome Data.
Musculoskeletal Specialists With Advanced Training.
Precise Image Guided Injections for Best Results.
Life's Too Short To Live It In Pain. We Can Help.
Regenexx® Procedures provide non-surgical options for those suffering from pain related to osteoarthritis, joint injuries, spine pain, overuse conditions, and common sports injuries. These medical procedures are performed by highly-skilled doctors trained specifically in Interventional Orthopedics and are used to help reduce pain and improve function. Regenexx procedures have helped thousands of patients improve their quality of life, return to the activities they enjoy, and avoid the need for surgery or joint replacement*.
Industry-Leading Musculoskeletal Specialists and Research - Focused on Results
Regenexx Physicians represent a very selective, highly-skilled, interventional orthopedics network that is 100% focused on orthopedic conditions. All Regenexx physicians are musculoskeletal experts with extensive training and experience in the diagnosis and treatment of musculoskeletal conditions, as well as complex, image-guided injections of your body's own healing agents to treat orthopedic issues. Regenexx patient outcomes are tracked in a registry and with that information, we provide transparent outcome data for those who may be considering this treatment option. Our top priority is to produce the best possible outcomes for our patients.
Patient Results
Regenexx maintains an active patient registry that tracks patients' progress or side effects, post-procedure. Our outcomes database contains records on tens of thousands of Regenexx procedures performed by physicians in our network.
Below, you can explore the outcomes database and see the number of currently tracked procedures as well as patient-reported results.
Select a body area to view outcome data:
Regenexx Procedures - Commonly Treated Orthopedic Conditions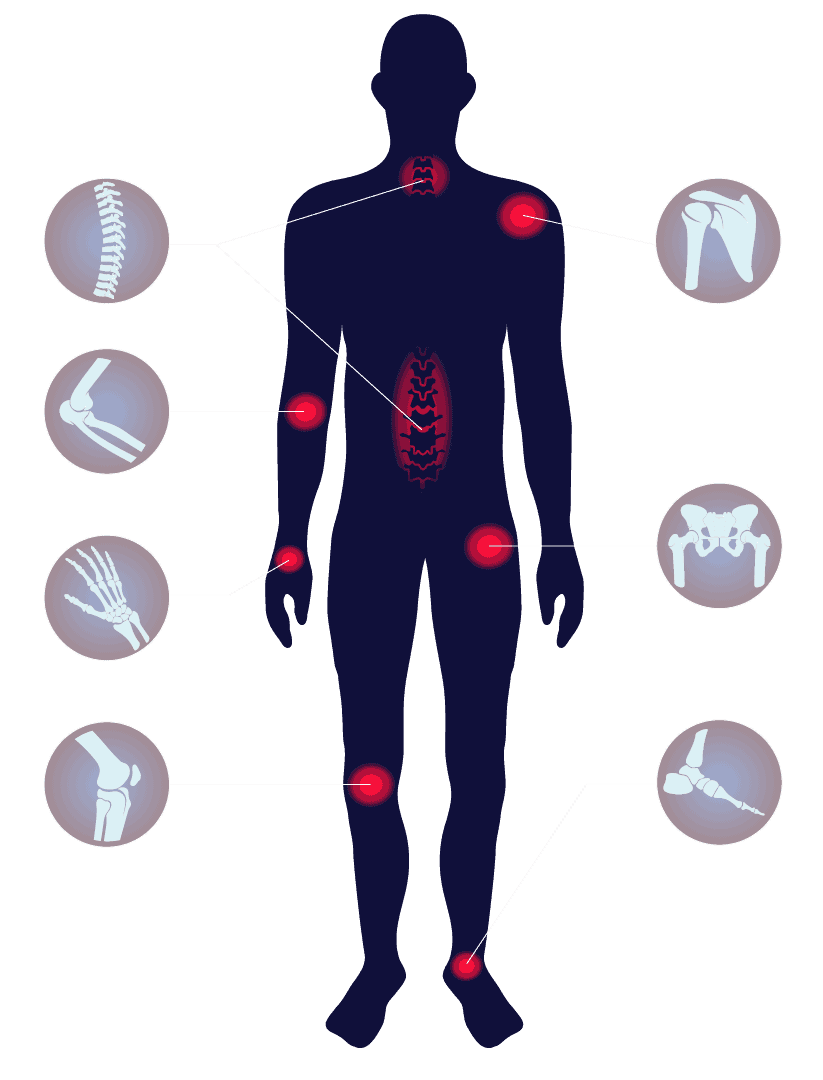 Knee arthritis, meniscus tears, ACL tears, other injuries
Hip arthritis or labral tear
Shoulder rotator cuff tear or arthritis
Back or neck pain due to herniated or degenerated discs
Ankle arthritis, ligament sprain or tear
Plantar fasciitis
Tennis or golfer's elbow
Texting thumb or thumb arthritis, Carpal tunnel
And many more common musculoskeletal conditions that cause pain
Detailed Evaluations and Diagnostics
Correct diagnosis takes time. Regenexx physicians spend an average of an hour with new patients evaluating every aspect of their injuries and developing a comprehensive treatment plan that addresses not only the site of pain but its underlying causes.
Patients receive a candidacy grade that rates the likelihood that a Regenexx procedure can help them.