What Is QC Kinetix?
I was recently asked to look at the QC Kinetix website by a physician colleague. After almost a week of digging deep, I thought I would share what I found. In addition, the unique set-up of these clinics raises all sorts of fascinating questions. For example, what is the role of a physician's assistant or a nurse practitioner in regenerative medicine? Let's dig in.
Why Do I Care?
As the Chief Medical officer for a large network of expert physicians that use interventional orthobiologics to help patients and the employees of Fortune 500 companies avoid the need for invasive orthopedic surgery, part of my job is to know what's happening out there at all times. For example, we need to treat patients in all sorts of places where we don't yet have coverage from our 70 US clinics. Hence, if there's a viable clinic option out there to refer patients where we have no network doctor, I need to know where those physicians are and how well they're trained.
Find a Regenexx Location Near You
82 clinic locations offering non-surgical Regenexx solutions for musculoskeletal pain.
Find a Location
What Is a PA or NP?
Much of this QC Kinetix review will surround what in the physician world are called "mid-levels". PA stands for physician assistant and NP stands for Nurse Practitioner. Meaning they have about half the training of most doctors and about 1/3 of the training as many super-specialists. Because of the lack of training compared to a physician, all PAs and NPs need a medical director to supervise their care. Their medical directors are generally supposed to be a call away and within reasonable driving distance if issues arise. Some states mandate specific distances, others don't. Some also mandate a maximum number of mid-levels that can be supervised by each doctor and some don't.
The Battle Over Quantity versus Quality
There's been a battle in medicine for many years over quantity versus quality. Meaning, quantity-based practices see many patients per hour, often 20-40 patients a day per provider. That means less time with each patient. Mid-levels were designed for these practices as they serve as a physician extender so that even more patients per hour can be seen. This is also a smart financial move for the clinic as you can hire a mid-level like a PA or NP for about 1/3 the price of a physician. However, the other side of that coin is that more patients per hour has the effect of reducing the quality of care.
To address what physicians know is a quality problem in high volume practices, some doctors have begun to rebel. These newer quality-focused practices are selling one on one time with the doctor. In these settings mid-levels run counter to the purpose of the practice. An example of this new type of quality-focused clinic is a concierge family practice where patients pay extra to have that direct physician attention and contact.
Regenexx has always partnered with doctors willing to undertake this type of practice. All of our providers know that if they have mid-levels (we have none in Colorado), that they are not permitted to see Regenexx patients. Why? More face time with a sub-specialist physician means better results. In fact, many other high-quality regen med practices outside of Regenexx with specialist physicians have gone this quality over quantity direction.
What Is QC Kinetix?
A colleague sent me the QC Kinetix website to review. After some research, the first difference from anything else I had seen is that this is a rapidly expanding clinic chain primarily run and staffed by PAs and NPs. While we often see this in chiropractic offices, those are clinics that already exist and are performing adjustments and then add a mid-level. The QC Kinetix clinics are mid-level staffed clinics that are opened from the ground up, often 1 day a week, with a rotating medical director who goes to the clinic only for specific procedures.
The second oddity?  Tyler Vail, PA is listed as the director of Regenerative Medicine. Why is a physician's assistant listed in this role and not a physician expert in regenerative medicine?  I have no idea. I did ask him personally about this and he stated that he had taken a regenerative medicine course at A4M that I have critiqued on this blog. IMHO a mid-level has no business acting as a director of a program that has physicians working within it.
I spoke with Tyler to get more information about QC Kinetix. I have to say that this was an interesting 15-minute phone call. I had already spoken to several QC Kinetix sites and confirmed the mid-level centric clinic design, but pinning him down on that was difficult. I got responses like (I'm paraphrasing), "All of our providers perform the procedures they are licensed to perform" or when I asked if the mid-levels did the initial evaluations and the physician "medical director" performed some procedures while the mid-levels performed others, I never got a straight answer. I also asked if I were a PA and wanted to "own my own practice", could QC help me.  Again, IMHO no straight answer.
The medical providers listed on the QC Kinetix website include a long list of mid-levels, but few actual physicians.  In fact, when I initially counted, there were only 3 listed medical doctors that were covering 15 clinics. Tyler told me that they had more medical directors and sure enough, after our discussion, another one appeared on the website that wasn't there previously and I found another when I searched under a specific clinic.
Join us for a free Regenexx webinar.
Medical Directors
First up is the North and South Carolina medical directors, which is where QC Kinetix has 11 of their 15 clinics. The person listed as the company medical director is Richard Shaffer, M.D. Hence, let's start there.
According to Google, Richard Schaffer, Jr, M.D. is also listed at Infinite Wellness, a chiropractic clinic in Roanoake, Virginia. No wait, Healthgrades also has him in Fort Mill, South Carolina. Wait, WebMD has him listed in Concord, North Carolina. Doximity has him listed in Asheville, North Carolina. Linkedin has him listed in Charlotte, North Carolina, and working for QC Kinetix. That same Linkedin profile also has him listed as previously working for Physical Medicine of the Carolinas in Kamersville, North Carolina which is a chiropractic clinic. You get the idea, IMHO, from seeing all of these addresses, Richard Schafer appears to be a medical director for hire. A bigger issue is does he have the requisite training to perform advanced orthopedic or musculoskeletal orthobiologic injections?  He's a family doctor, so without a subspeciality fellowship in sports medicine, he wouldn't qualify for our network. He also wouldn't qualify to take courses through the IOF, a subspeciality professional organization in Interventional Orthobiologics. 
Two Physicians Cover How Many Clinics?
Given that there are 11 QC Kinetix locations in North and South Carolina, how many North and South Carolina physicians are listed on the website to cover those clinics? Near as I can tell, there are two. The first is Dr. Schaffer, the second is Dr. Garzone. Let's look at how that works.
Justin Garzone, D.O. is listed as another medical director in Charleston, South Carolina. On his Linkedin page, he's listed as the regional medical director for "Doctor's Making House Calls". He also owns Elite Physician healthcare. What's not on his Linkedin page is that he works at any QC Kinetix facility. He also lists no board certification on his Linkedin page nor could I confirm one through the ABMS website that he holds any board certification. It looks like he did an osteopathic residency in internal medicine and hence this board is listed on his SC license page, but not recognized by the American Board of Medical Specialties. He again wouldn't qualify to be on our network because of a lack of any subspeciality training in MSK medicine.
How feasible is it for this medical director located in Charlotte to cover all of these clinics? Let's check this out by seeing what would happen if Dr. Schafer had to drive from Raleigh, NC to Charleston, SC to handle an emergency at that clinic. That's a 4-hour drive! How about if Dr. Garzone drives from Charleston, South Carolina to Myrtle Beach, South Carolina? That's a 2-hour drive!
Then there's the issue of quality. How many mid-level owned or operated clinics would I as an expert in the field feel comfortable covering before the quality of the care dropped off a cliff?  Maybe 1 or 2?  In addition, I would expect those clinics to be no more than an hour's drive from my home base. Why? Making sure the quality in a non-physician staffed clinic stays high is a full-time job for one clinic and is very difficult in two, but in 5-6 mid-level clinics per doctor, IMHO, it would be almost impossible.
Other Medical Directors
Aditya Gupta, M.D.  is another medical director listed. He's also listed on the Center for Vein Restoration website in Austin, Texas. His Linkedin page says that's where he works and doesn't mention QC Kinetix?  He's supposedly covering the Austin area clinics. What does a vein doctor have to do with a knee injection? Your guess is as good as mine.
Leeor Peleg, DO is listed on the QC Kinetix website and according to US News and Healthgrades is listed at HCA Houston Healthcare Northwest. Doximity has him last at his home address in Bellaire, Texas. Vitals states that he also works in Webster, Texas. ShareCare has him working at EmCare in Houston. I'm assuming he's covering the Houston clinic.
The reason for going over all of these locations listed for these doctors is to highlight the reality of recruiting highly-qualified physicians with training and medical expertise in this area versus what is IMHO the "medical director du jour". Meaning, doctors who are actual specialists in interventional orthobiologics have their own practices and in my direct experience, would never permit their licenses to be used to supervise a distant mid-level. They would also never agree to cover care in medical specialties where they are not experts. So for example, a doctor who has board certification and additional training in interventional spine would never offer to cover a clinic performing vein care. So you have to ask yourself, why is a doctor who works in vein care supervising and providing musculoskeletal care?
Ashville NC
I literally chose a site at random and ended up with Asheville, NC. This is the Ashville site in a strip mall. The employee I spoke to at the Nail Salon says that the Cryology site shown is no longer there and that she thinks this is now a QC Kinetix office, but she's not sure.
I called the Ashville site and made an effort to book an appointment with Dr. Schaeffer. I was told that instead only the nurse practitioner was available. While it was possible to see Dr. Schaefer, it would depend on which "package" the clinic thought I needed as he was only there on an intermittent basis.
Kansas City
The next site I chose at random was Kansas City. This site is in a medical office building and lists Ashley Ascencio, DO as the medical director. What's interesting here is that no residency training is listed for Dr. Ascencio. It looks like she only did an internship year. Why is that critical? Residency and fellowship training is how a physician gains additional knowledge to specialize.
I called this site and was again told that I would initially see the mid-level provider (i.e. not a doctor) and then I would either see the mid-level for my procedure or I would see Dr. Ascencio based on which package I needed. Again, the physician I would see had no residency training.
Quality of Care Issues
Would any of these PAs, NPs, or physicians qualify to be trained by the Interventional Orthobiologics Foundation? No, none would have the requsite credentials to be trained. Why use mid-levels instead of physicians? Meaning why not have 15 physicians covering 15 clinics? Cost. A mid-level generally makes about 1/3 of a physician. You've seen the training differential above, that speaks for itself.
Focusing in On Specific Treatments
I went to the QC Kinetix knee page and saw that they were advertising that they can treat ACL tears. This is an x-ray guided procedure that requires course work only available through the Interventional Orthobiologics Foundation. There are two issues. First, these sites don't have the right equipment (C-arm fluoroscopy) to accurately perform this highly precise injection. In addition, none of the physicians or PAs would be qualified to take the course that would teach how to perform this complex procedure.
Outcomes? Research?
As far as I can tell, QC Kinetix performs PRP, A2M, bone marrow, birth tissue, and adipose procedures. However, unlike Regenexx who spends heavily on lab and clinical research, I can find no outcomes listed on their website or anywhere else. What we would need to see is data collected at QC Kinetix sites that were generated by those sites performing these procedures.
I also found no lab or clinical research that QC Kinetix has conducted. For example, for Tyler Vail to be the "Director of Regenerative Medicine" we should find publications on orthobiologics linked to his name, I found none. Same with Dr. Schaffer, we should find many research publications on stem cells or PRP and none exist.
Talking to a QC Patient
I was able to find a patient of one of our Regenexx sites who had first been to a QC Kinetix site. He's a health care provider himself, so he knows what to expect. He had shoulder AC joint arthritis and instability with thoracic pain due to degenerative disc disease. These were his thoughts.
The place he visited didn't really look like a medical office and was only open 1 day a week or so. A PA came and got him from the waiting room and took him back to a non-medical office that had a table. He was then asked basic questions about his issue and then a quick poke and prod exam was performed without an ultrasound being performed. There was no review of his imaging. Instead of having the PA discuss his medical options, he was taken to a nicely appointed office and turned over to a non-medical salesperson where he was told about various package deals. One used an A2M injection into the shoulder and thoracic muscle trigger point injections with prices about 10K+. He became totally disinterested when the hard sell was turned on by the salesperson telling him that, if he did this today he would get $500 off. He was also told about "off-the-shelf stem cells", which he now knows after doing his homework aren't real. He finally said, "he sold me all the way to the door and called me twice".  Meaning the non-medical sales guy was trying to get him to commit to a procedure all the way from that nice office to the exit. He said he never did figure out if the PA or an actual physician was going to perform the procedure.
He also told me that some local friends attended a franchise opportunity event at QC Kinetix and he asked if they had medical backgrounds. They did not. This is something that was confirmed to me by Tyler, that non-physicians could own and operate a QC Kinetix site.
Should I recommend QC Kinetix to Patients?
While our provider network is up to about 70 sites and growing, I still have patients all over the country who need to be seen. When there isn't a Regenexx site I send those patients to people who I know are experts in this area. For example, we have no site in Austin, Texas and QC does have a site there. After my review, would I recommend that QC Kinetix site to a patient of mine who lives in Austin? Regrettably, I would not. Here's my summary of why:
IMHO these clinics are being staffed and run by mid-levels, not physicians.
Even when the doctor is brought in, none of these providers would qualify to be trained by IOF or to join the Regenexx network. Meaning, they don't have the basic background in this area of orthopedics and MSK therapies. In some instances, IMHO we have doctors covering clinics who are completely outside of their areas of expertise.
QC Kinetix has no published outcomes of procedures performed at its sites. It has published no lab nor clinical research.
The exam and decision-making described by the patient was not up to my standards. A proper exam for this type of issue would have taken 20-30 minutes at least not just a few minutes. It would have involved an ultrasound to look at the rotator cuff and AC joint. In addition, a review of this patient's imaging (i.e. both the doctor and the patient looking at his images on the screen) would be critical to decide which therapy was the best fit.
A non-medical salesperson deciding which treatment to sell a patient based on a form filled out by a mid-level is also below my standard of care. Many options based on price were offered to this patient as if he were buying a new TV rather than the best medical care which was the most likely to help him.
The good news is that I have other non-Regenexx providers in Austin where I would refer patients based on the fact that these are physician-owned and operated clinics and these doctors have specific expertise in this area and are focused on regenerative medicine.
The upshot? These reviews take a long time to put together. This one took the better part of a week to gather all of the data needed to decide if I would refer to this clinic. However, it's my job as CMO to know what's out there, so now you know as well.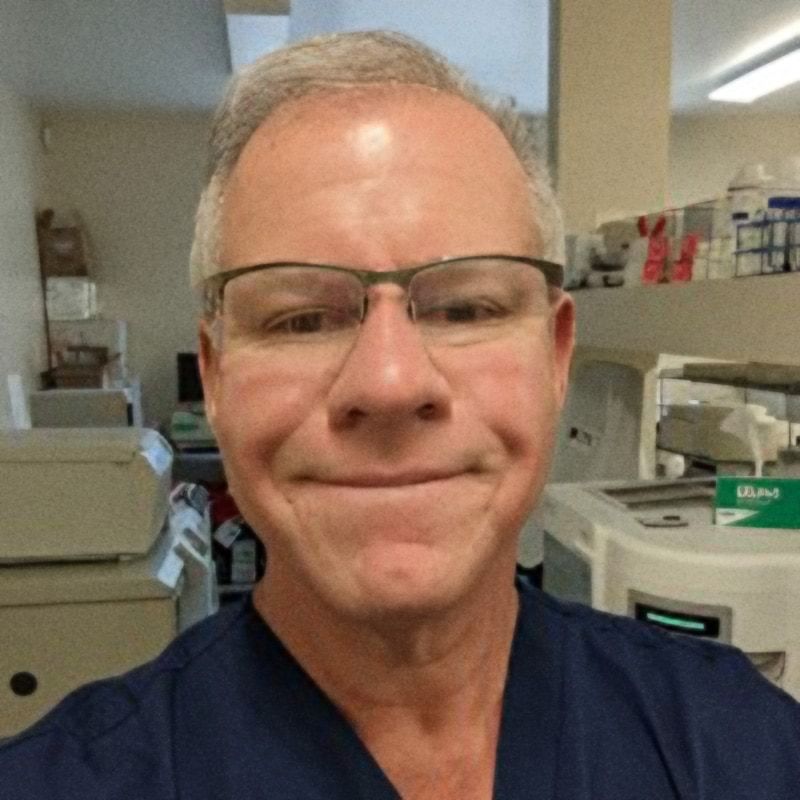 Chris Centeno, MD
is a specialist in regenerative medicine and the new field of Interventional Orthopedics. Centeno pioneered orthopedic stem cell procedures in 2005 and is responsible for a large amount of the published research on stem cell use for orthopedic applications.
View Profile
If you have questions or comments about this blog post, please email us at [email protected]
NOTE: This blog post provides general information to help the reader better understand regenerative medicine, musculoskeletal health, and related subjects. All content provided in this blog, website, or any linked materials, including text, graphics, images, patient profiles, outcomes, and information, are not intended and should not be considered or used as a substitute for medical advice, diagnosis, or treatment. Please always consult with a professional and certified healthcare provider to discuss if a treatment is right for you.