Anesthetics and Stem Cells: Are Your Stem Cells being Killed by the Local Anesthetic?
Anesthetics and stem cells are not a good combination.  Way back in 2007, we wondered if common local anesthetics would hurt stem cells. After all, the most common thing a doctor does before a procedure is to numb the area. For example, what if the doctor got anesthetic inside a joint and then injected stem cells into the same joint? What we found forever changed my take on the common anesthetics in common use all around me . This was because the two most commonly used local anesthetics seemed to kill stem cells dead in our lab experiments. One in particular (Bupivicaine or Marcaine) was so toxic it was scary. We kept diluting it and diluting it, but at no reasonable dilution could we make it safe. That lead me to perform a medical literature search on Bupivicaine, which showed that it was at the time known to be toxic to cartilage cells, the heart, nerves, and many other tissues. I was so shocked, I literally banned it from our clinic and have never used it since.
What's more shocking is that despite a warning by the American Academy of Orthopedic Surgeons last year that bupivicaine kills cartilage cells, it's still in common use today. A research paper was recently published showing what we found many years ago, that bupivicaine was a stem cell killer, but it also seemed to suggest that two anesthetics were safe to use around stem cells. Our lab research team looked at the paper and saw a lot they didn't like, mainly that it only looked at whether the stem cells were alive or dead. This is a bit like a drug study that only includes the outcome measures alive or dead and excludes the third possibility, that the drug caused some people to get really sick. In addition, the paper also allowed the cells to recover for a day after 1 hour of anesthetic exposure. This meant that the surviving cells could continue to grow, possibly giving too low a count of the dead cells due to the anesthetics.
Our team repeated the study in much greater detail, looking at live, dead, dying, and sick cells. They also looked at what was going on inside each cell after various anesthetic exposure concentrations and times. The conclusions will be part of a publication, but the picture from the paper above tells at least one story. The stem cells here are being stained with fluorescent microscopy for calcium and the health of one of the "internal organs" of the cell (endoplasmic reticulum). Bright is good, dark is dead or dying. Bupivicaine is still highly toxic. We did find one anesthetic that the other team suggested was safe that is "kind of" safe only in the right dose and exposure time. There was one anesthetic that was very safe around stem cells (the good anesthetic above).
The upshot? There is no other stem cell clinic in the United States that could have pulled off this study. I want to congratulate our research team for a great job!
Find a Regenexx Location Near You
82 clinic locations offering non-surgical Regenexx solutions for musculoskeletal pain.
Find a Location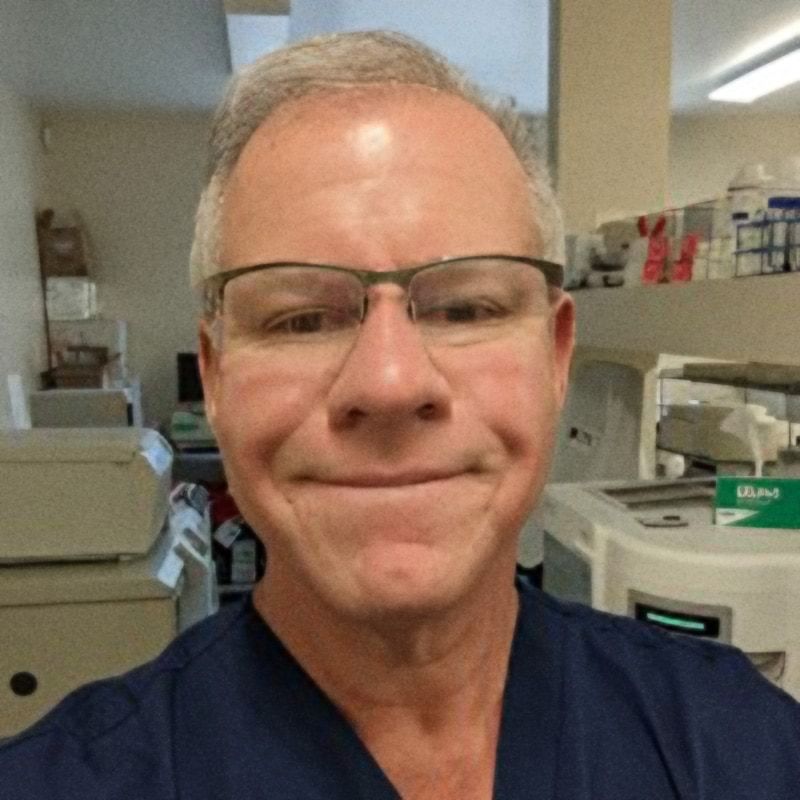 Chris Centeno, MD
is a specialist in regenerative medicine and the new field of Interventional Orthopedics. Centeno pioneered orthopedic stem cell procedures in 2005 and is responsible for a large amount of the published research on stem cell use for orthopedic applications.
View Profile
If you have questions or comments about this blog post, please email us at [email protected]
NOTE: This blog post provides general information to help the reader better understand regenerative medicine, musculoskeletal health, and related subjects. All content provided in this blog, website, or any linked materials, including text, graphics, images, patient profiles, outcomes, and information, are not intended and should not be considered or used as a substitute for medical advice, diagnosis, or treatment. Please always consult with a professional and certified healthcare provider to discuss if a treatment is right for you.