Three Disappearing PhDs?
As you may recall, I have blogged about a naturopath who, based on what I found, has faked academic credentials and who has advertised himself as the world's smartest human. That same naturopath was also performing dangerous "stem cell" injections into people's necks. The good news is that the Montana board has finally decided to take action. The bad news is that a chiropractic educational company and a supplement manufacturer are still using those degrees to advertise their products.
Marc Harris, ND, MD, PhDx3
This is a bizarre story that involves a Montana naturopath named Marc Harris who claimed to earn an MD/Ph.D. degree while still a tween. He then claimed to earn two more Ph.D. degrees. He came on my radar after a video surfaced of him performing VERY dangerous neck injections. I then was intrigued by the story, as if true, would be Guinness world record material. Curiously, I could find no references to news stories about a 13-year-old getting an MD/Ph.D. degree and so I dug deeper, finally confirming with the National Student Clearinghouse that no such degrees for Marc Harris existed. In fact, the university where those degrees were claimed only had him attending for a few months. Another university where he claimed a Ph.D. ran a search for me and found only a bachelor's degree in zoology.
Normally I wouldn't really care very much if a naturopath claimed a bunch of fake degrees, but this provider was teaching chiropractors how to perform dangerous injections and the fact that he stated that he held an MD degree went a long way toward why many likely signed up for the course. Hence, I filed a complaint with the Montana naturopathic board and tried to reach out to several of the companies that were advertising him as an MD/PhDX3.
Learn More About Regenexx® Procedures
We do not sell, or share your information to third party vendors. By submitting the form you agree that you've read and consent to our
Privacy Policy
.
The Montana ND Board
When I reached out to the Montana board, I asked them to have an international spine or anesthesiology expert look at the dangerous cervical injection video. Why? Marc was blindly inserting a needle into the cervical spine of a patient on the video and injecting an anesthetic. He claimed that he was in the intrathecal space, which if true would have resulted in death in minutes. In fact, thankfully, he was well short of that space and instead just injected the soft tissues.
I'm assuming they did because I got this letter recently:
I want to congratulate the Montana Board of Alternative Health Care for taking action. Other boards like the Utah Naturopathy Board have been asleep at the wheel on many of the same issues of naturopaths clearly exceeding their practice acts. 
Brimhall Wellness
So what did the chiropractic group called Brimhall Wellness who was allowing this fake MD to teach chiropractors do in response to being notified about the faked credentials? I pulled this off of their website this morning:
Notice that "Dr. Marc Harris" now has different credentials in bold. He's now a DC, BA. BS, FIAMA, DIBAK? First, I didn't remember seeing Marc being advertised as having a chiropractic degree, which is the "DC" part. I know he has a bachelor's degree in zoology, so the B.S. makes sense. I have no idea where he got the B.A. (if he has one). The FIAMA means that he is certified in acupuncture. I am unable to find out what "DIBAK" means.
When I first saw his credentials being changed in bold on this page, I was hopeful that this group had finally realized their error. However, note that right under that he is still referred to as "Dr. Marc Harris, ND, MD, Phd3"! You can't make this stuff up! I also called and confirmed that Marc is still teaching for this group.
OHS Supplements
The other place that Marc Harris was listed as having three Ph.D.'s was on the OHS supplement website. Remember that this is the company that supplied a colleague of mine with what seemed to be a clearly faked degree image from the Univerisity of Washington. It's also the company lead by an ex-con that was accused of murdering his wife. I searched their site and found that Marc was still being referred to as having three Ph.D.'s. I then wrote OHS and confronted them about the faked credentials. This was part of their response:
"Thank you for following up. We at OHS have spoken internally and, due to the wishes of Dr. Harris, have elected to present him as "ND" on all publications during the time he is facing these claims. We would like to emphasize that this is solely due to Dr. Harris' instructions, not yours or anyone else's."
When I checked this morning, they did make some changes, but still to this day they have this on some of the products they sell:
So Did Marc Harris' Ph.D.'s Disappear?
Both organizations that have been promoting Marc's faked degrees are still referring to him as having a medical degree and three Ph.D.'s. However, both have made a few scattered changes. However, IMHO, both are still ripe for FTC complaints as Marc's credentials are a key part of the online advertising for both companies.
The upshot? I always say and I will say it again, that you just can't make this stuff up! I applaud the Montana Alternative Health Care Board for taking my complaint seriously. On Brimhall Wellness and OHS Supplements, IMHO, neither really took the issue of Marc's faked advanced degrees very seriously.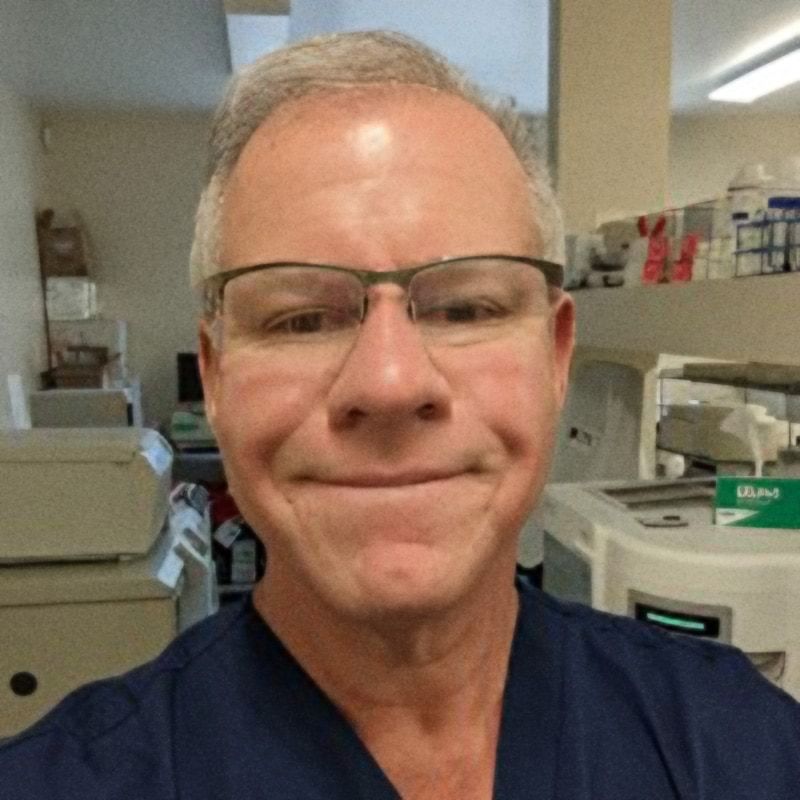 Chris Centeno, MD
is a specialist in regenerative medicine and the new field of Interventional Orthopedics. Centeno pioneered orthopedic stem cell procedures in 2005 and is responsible for a large amount of the published research on stem cell use for orthopedic applications.
View Profile
If you have questions or comments about this blog post, please email us at [email protected]
NOTE: This blog post provides general information to help the reader better understand regenerative medicine, musculoskeletal health, and related subjects. All content provided in this blog, website, or any linked materials, including text, graphics, images, patient profiles, outcomes, and information, are not intended and should not be considered or used as a substitute for medical advice, diagnosis, or treatment. Please always consult with a professional and certified healthcare provider to discuss if a treatment is right for you.